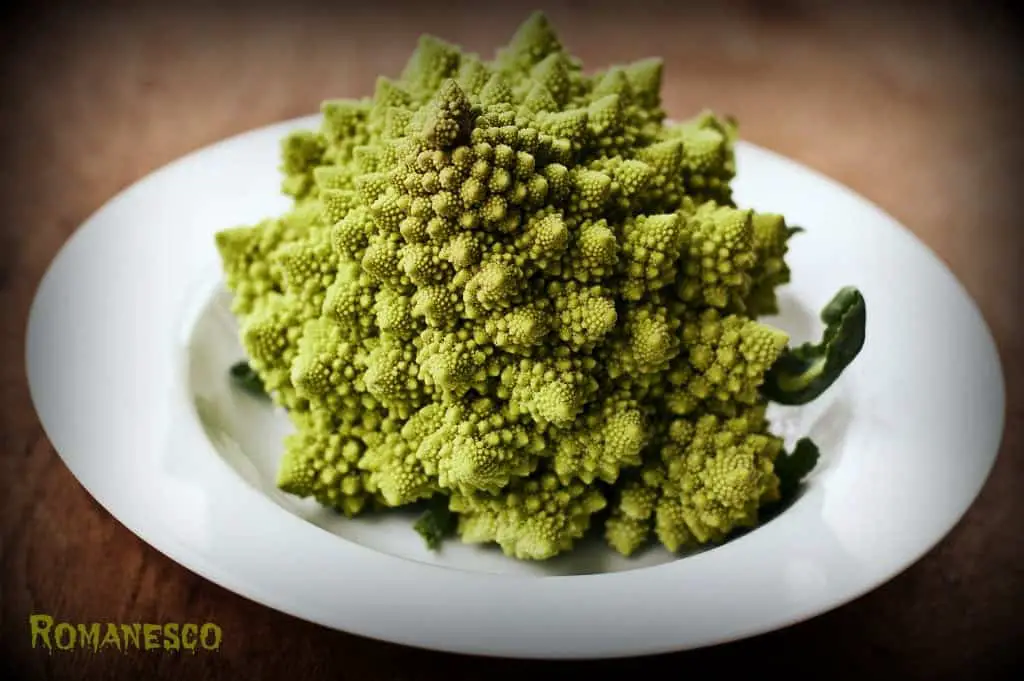 Every fall, this thing haunts me as I stroll through the vegetables at the grocery store. What is it? And, more importantly, why do I want it so badly? Its freaky spikes had me intrigued.
Finding out that this was an Italian vegetable was what pushed me over the edge and this strange beauty was quickly in my shopping cart and on its way to its new home.
What is Romanesco?
Called Broccoli Romanesco, some say it's a cross between cauliflower and broccoli. It's technically an edible flower of the species Brassica oleracea. I found it to be most similar to cauliflower in texture with a mild broccoli-like taste.
How do I cook it?
It holds up to many different cooking methods and can be cooked in any way you might cook broccoli or cauliflower. Scroll down for a tasty Roasted Romanesco recipe!
Why would I want to eat this strange looking vegetable?
You want to try something new.

You want to eat like an Italian.

You want to feel worldly and super cool.

You want to add "eating Romanesco" to your bucket list, then cross it off, and feel like you've accomplished something.

You want to tell your co-workers you are a foodie and mean it.

You want to eat something delicious and healthy.
Here I roasted it with mild tasting, buttery olive oil and salty Pecorino Romano cheese. Once again – thank you, Italy.
Print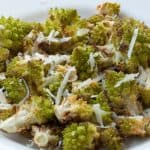 Roasted Romanesco
---
1

head of Broccoli Romanesco

3 tablespoons

extra virgin olive oil

2 tablespoons

shredded Pecorino Romano cheese

1/8 teaspoon

salt

15

turns fresh ground pepper
Hot paprika or red pepper flakes (optional)
---
Instructions
Preheat oven to 400°F and line baking sheet with parchment paper or nonstick spray.
Take a deep breath as you realize you are going to actually eat this spiky, alien looking vegetable. It's going to be okay.
Cut off Romanesco florets (as you would broccoli or cauliflower) and place in a medium size bowl.
Season with salt, pepper.
If you are using the hot paprika or red pepper flakes, lightly sprinkle them to taste over the top – I used the paprika. (You don't need a lot unless you really want it spicy).
Add olive oil and 1 tablespoon of the Pecorino Romano and toss to coat.
Lay Romanesco in single layer on baking sheet and bake for 20 minutes, turning once at the halfway point.
Sprinkle remaining shredded Pecorino Romano over the top just before serving.
Notes
More great recipes at www.thekitchensnob.com