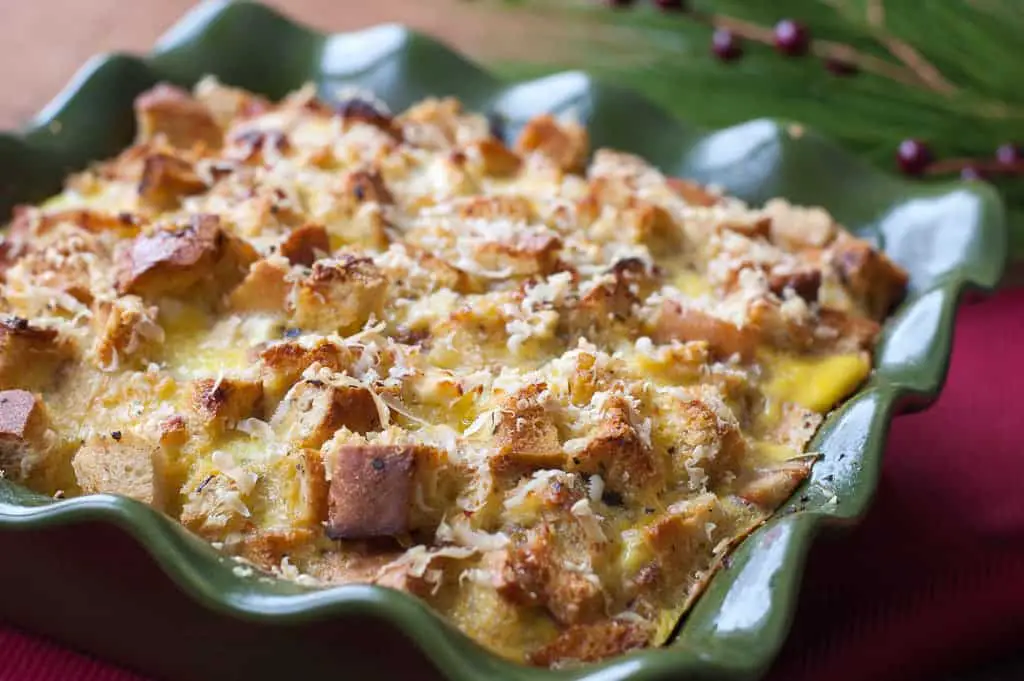 There is nothing like waking up on a cold winter morning and having this steaming hot, comforting dish waiting for you. It's like putting an electric blanket over your insides. Good morning, heaven.
Half asleep, you pop it in the oven. It bakes while you watch fast-forward through Saturday Night Live skits wishing Eddie Murphy would make a comeback. When the oven timer goes off, you scuff across the floor in your bunny slippers to pull this masterpiece out of the oven. Your family stares at you like you're a domestic goddess for not serving cereal and cinnamon toast again.
They assume you're still high on holiday spirit. They know to eat first and ask questions later.
Wow. You are a domestic goddess. (or domestic god – you dudes can pull this off too)
Don't tell anyone you sweat it out the night before preparing this bad boy and give your best Oscar winning performance that it was no trouble at all. Shrug and act very aloof. When they tell you how good it is, be sure to act surprised.
I went through a few extra steps to make this breakfast casserole extra special. First, I toasted the bread into little seasoned, crunchy croutons. I used shallots instead of onions. I always feel so fancy when I use shallots. Like I'm wearing a tiara. I think I even turn my nose up a little when I chop them. Seriously snobby, for sure. Onions would do just fine though. I also added a tiny bit of broccoli – trust me – not enough to get broccoli in every bite. Just enough for good measure so I could feel like I was eating healthy for five minutes. Leave them out if you want. I won't tell.

What is Breakfast Strata?
Strata (or stratta) is a layered casserole dish, similar to quiche or frittata, which mainly consists of egg, bread, and cheese. You can create different variations with pretty much anything. The casserole sits overnight while the flavors have a party together and the bread soaks up the egg mixture.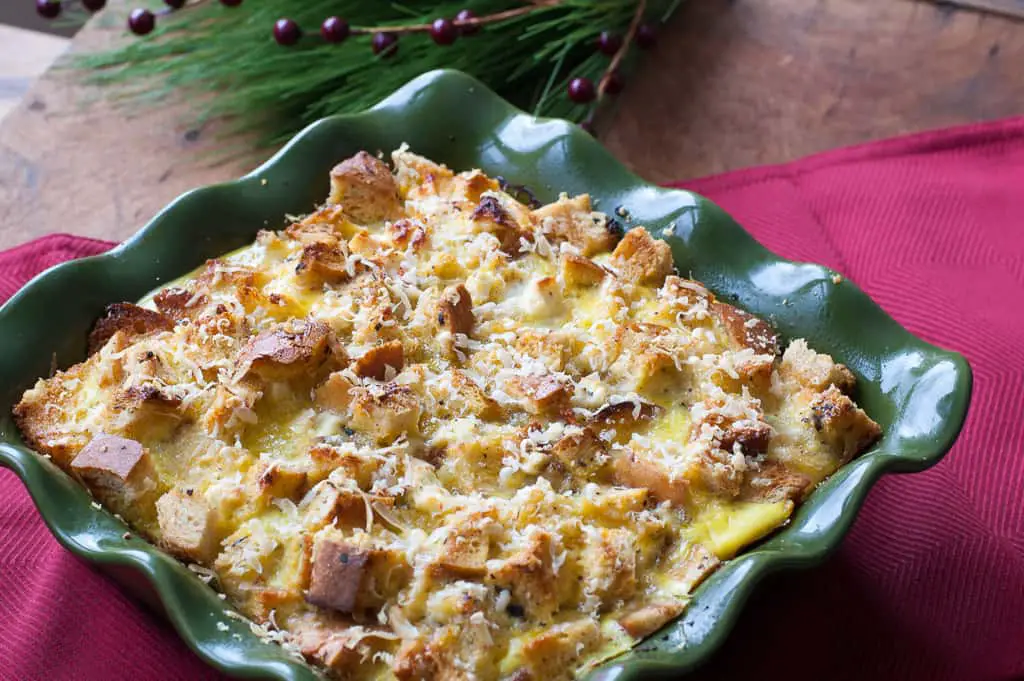 Print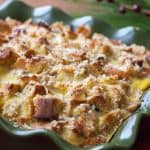 Breakfast Strata With Sausage, Artichoke Hearts, and Feta
---
Description
For this recipe, I used an 8x8x2 baking dish. If you are using a 9x13x2 baking dish, I would multiply these ingredients by 1 1/2.
---
4

heaping cups cubed Italian bread (the crusty kind that comes in a big loaf)

2

–

3

tablespoons olive oil, plus 2 tablespoons

1 teaspoon

Italian seasonings

1/8 teaspoon

granulated onion
salt & pepper to taste

¼ cup

diced shallots

¼ cup

diced broccoli (I used frozen)

3

cloves garlic

½ cup

milk

½ cup

crumbled feta (I used tomato/basil flavored)

2

mild Italian sausage links (pork, turkey or chicken – I used chicken here)

¼ cup

chopped marinated artichoke hearts (from a jar or can)

10

large eggs

½ teaspoon

salt

¼ teaspoon

pepper

1/8 teaspoon

granulated onion

2

–

3

tablespoons grated Parmesan cheese
---
Instructions
Preheat broiler to 400&#176 and line baking sheet with parchment paper.
In medium bowl combine cubed bread, 2-3 tablespoons olive oil, Italian seasonings, granulated onion. Sprinkle with salt and pepper (about the amount you would use if making a salad). Toss together and pour onto baking sheet.
Broil for 1-2 minutes. Watch carefully. Bread is done when golden brown. Set aside.
Preheat medium-sized skillet over medium heat. Take sausage out of casings and break apart into smaller pieces. As you brown the sausage, continue to break it down into smaller pieces. Brown sausage until cooked through. Set aside sausage.
In the same skillet you cooked sausage, heat 2 tablespoons olive oil over medium heat. Add shallots, lightly sprinkle with salt and pepper (to taste) and saute for 2 minutes. Add garlic and saute for an additional 1 minute. Pour onto small bowl or plate so it can cool.
In same skillet, saute broccoli for 2-3 minutes. Set aside.
Feel relieved you're almost done and trust this will be worth it in the morning.
In medium bowl, beat together eggs, milk, 1/2 teaspoon salt, and 1/4 teaspoon pepper. Add shallot mixture and beat until combined.
Spray baking dish with nonstick cooking spray. Layer the bottom of dish with 1/2 of the cubed bread.
Next layer 1/2 of the feta then 1/2 of the sausage.
Next layer artichoke hearts, broccoli, remaining feta, remaining sausage, and top with the remaining bread.
Give egg mixture a quick whisk and pour over the top of your casserole.
Sprinkle Parmesan cheese over top.
Tightly cover with plastic wrap and store in fridge overnight.
The next day, bring casserole to room temperature while you preheat oven to 350&#176. (Note: I was bad and did not bring mine to room temperature so I had to cook it a little longer than normal. Just like a parent would say: Don't do as I do, do as I say.) Bake casserole for 45-55 minutes. Casserole should puff up, be golden brown, and cooked through. Let stand 5 minutes before serving.
Remember: act aloof and let your family believe this was no big deal.
Notes
More great recipes at www.thekitchensnob.com