I could talk for days about this Easy Greek Quinoa recipe.
I'm lying.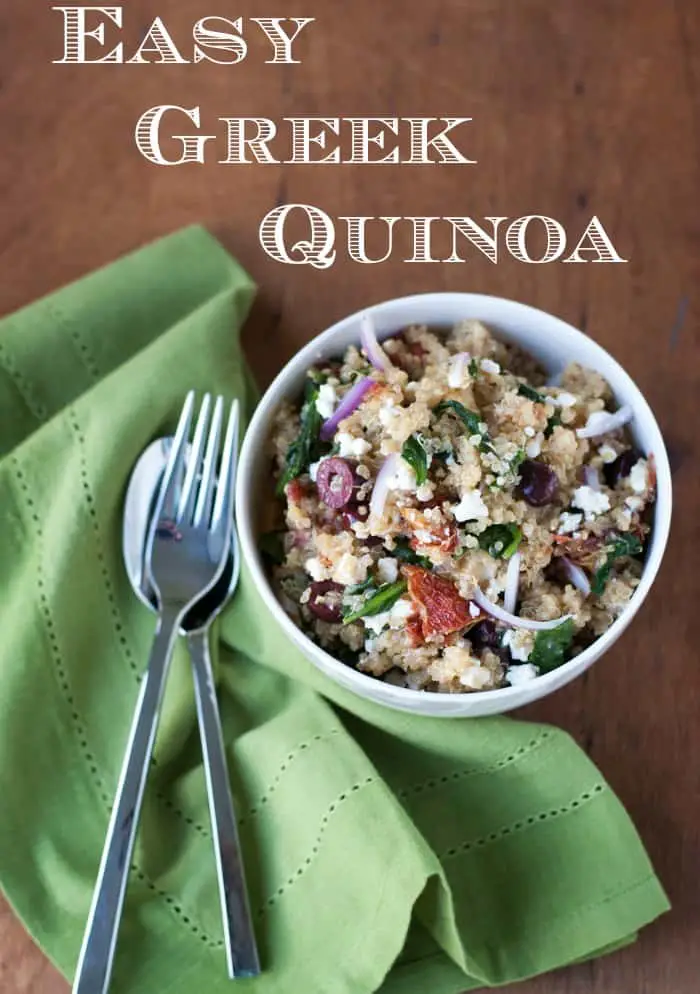 Some days, the writing well is dry and for the life of me I can't come up with fascinating on-the-edge-of-your-seat stories about food except "nom nom nom".
So, I don't have much to say.
Except that some family members might think I've gone off the deep end with my whole "no sugar" nonsense and now that I'm eating that ridiculous no-good-for-nothing-dang-healthy quinoa, who the heck am I?
I mean, really. The nerve of me.
After posting my incredibly informative, darn right award winning post on What is Quinoa and Why You Should Be Eating It, my brother called me a hippie. Yep. (the horror!) On Twitter. Whoa. Don't be believe me? It's there for all the world to see. Our dirty family laundry out there flapping in the public wind. It hurt my hippie-loving heart. I know we shouldn't eat our feelings, but I held back the tears by shoving more quinoa in my face.
Too dramatic? I do that.
I quickly corrected him with "That's Pez Eating Hippie to you, bro." Boooyahhhhh! And he shriveled away in embarrassing retreat from my quick comeback.
That's right. Don't mess with The Snob.
Or the Zohan. We're both pretty badass.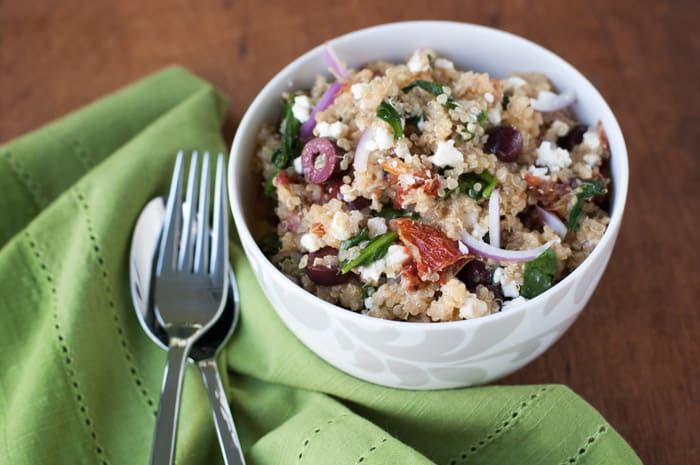 If I was back in my childhood (or at least lived in the same state as him), I would have flung some Pez at his head. (I would prefer to fling quinoa at his head but I don't think  those little soft round guys would make much of a statement). But I'm mature now, see? So I didn't do that. I'm growing.
And maybe he's right. I probably should down a few cupcakes to balance out this insanely healthy recipe. Because who am I kidding? This gal needs cake in her veins.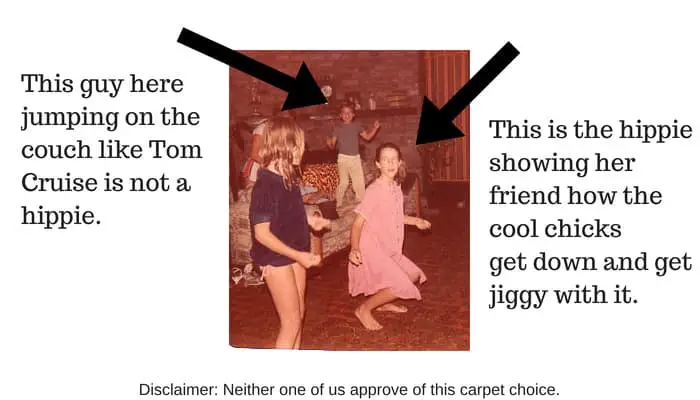 Where was I? Oh yeah. Easy Greek Quinoa With Roasted Tomatoes.
Sure you could roast your own tomatoes making this dish difficult and annoying, but why do that? I purchased them in a jar. As hippies like to say: Keep it simple, man. Do they say that?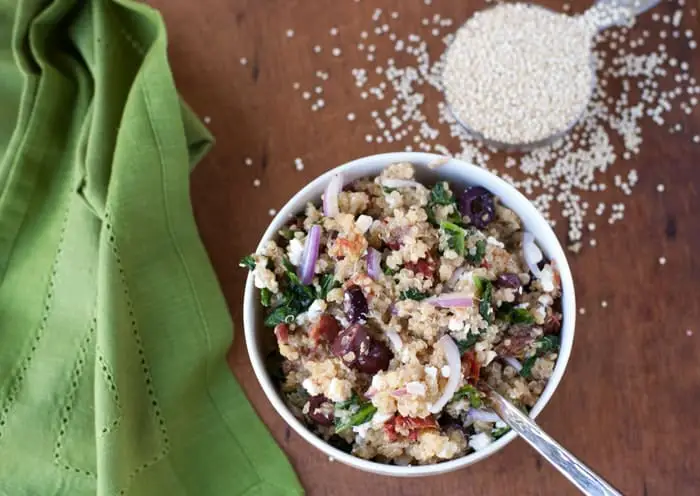 This Easy Greek Quinoa was surprisingly…well yeah…easy. As the quinoa was cooking and absorbing up the garlicky goodness, I prepared the Greek flavorings…feta (duh), kalamata olives (double duh), red onions (no der) roasted tomatoes from a jar, and packaged baby spinach. The whole thing is just duhhlishious!
My brother and I used to have "duh" contests. We'd get in each other's face. Me: Duh! Him: No duh! Me. No der! Him: No der dee der! As you can tell, we were pretty intelligent.
Oh yeah, quinoa.
Being that this was my first official quinoa recipe, I am pretty proud of myself. Us hippies like our quinoa with some flavor, man, and this Easy Greek Quinoa delivers.
Peace. ☮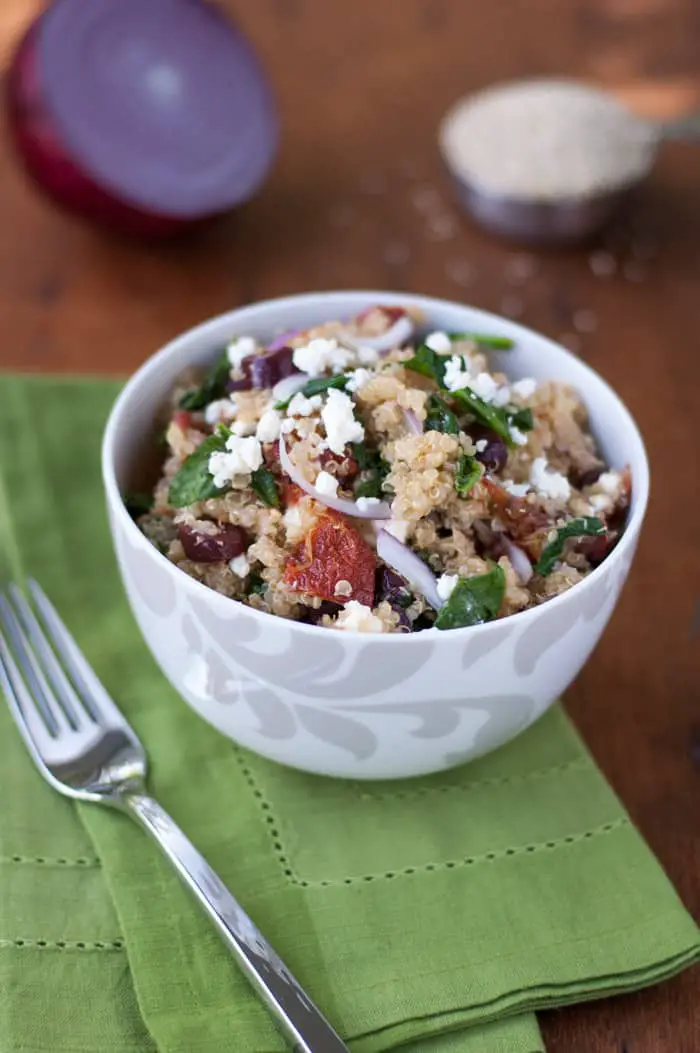 Print
Easy Greek Quinoa With Roasted Tomatoes
---
2 tablespoons

olive oil

2

garlic cloves, minced

1 cup

dried quinoa

2 cups

vegetable stock or water

1 teaspoon

salt

1/4 cup

sliced red onions

1/4 cup

sliced kalamata olives (or more if you prefer)

1/4 cup

chopped roasted tomatoes with garlic (from a jar)

2 cups

chopped baby spinach

1/2 cup

crumbled feta + more for sprinking
---
Instructions
Rinse dry quinoa with water with a fine mesh strainer.
In medium saucepan, heat olive oil over medium heat. Add garlic and saute for 1 minute. Add quinoa and stir occasionally for a minute or two. This will toast the quinoa and let it soak up the oil and garlic.
Add stock/water and salt and bring to a boil. Once boiling, reduce heat to a simmer and cover for 15 minutes. Remove from heat and let sit covered for 5 minutes. Fluff with fork. [Note: If there is still water in the bottom of the pan, you can put the quinoa back on the heat (covered) for a few minutes.]
Transfer to a large bowl. Let cool for a few minutes. Add onions, olives, tomatoes, and cheese. Toss together. Add spinach and mix together. Serve with additional feta crumbles.
Notes
For more great recipes go to www.thekitchensnob.com