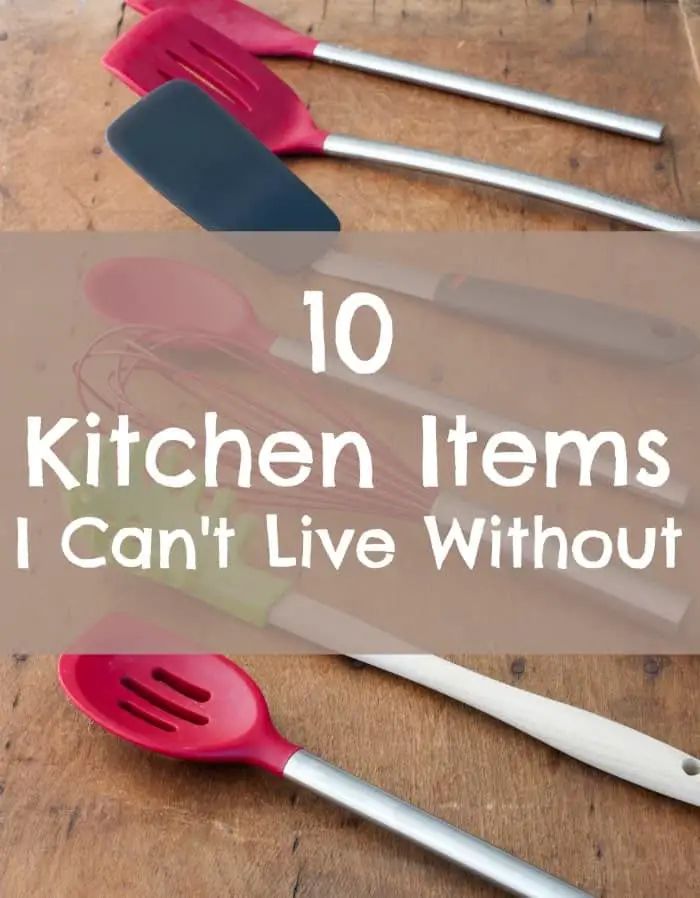 Today, I thought I'd share with you a few kitchen items that I just can't live without. I mean, if I was stranded on a deserted island, I would certainly perish without them.
Oh right, there won't be any food to cook on the island. Coconuts maybe?
Who cares. While I'm starving and wasting away on the island, I can "pretend" I'm cooking. It'll give me something to do instead of talking to Wilson, the bloody soccer ball.
Please tell me you get the reference. Anyone? Wilson? Wilson?!
Okay moving on. Here are my Kitchen Items I Can't Live Without:
1. Cutco Table Knives
Many years ago, a friend gave me a few extra Cutco table knives she had lying around and they made great steak knives. I found them to be really sharp, so sharp that I started using them to cut vegetables and slice fruit. They weren't the ideal chef size, but they won me over.
More recently, I received this Cutco set as a gift. They are "snob approved" and have a lifetime warranty. The steak knives cut through meat like buttah, baby.
I also recently got this Santoku knife and it gets used more than any other knife in my kitchen.
2. Cuisinart Mini Food Processor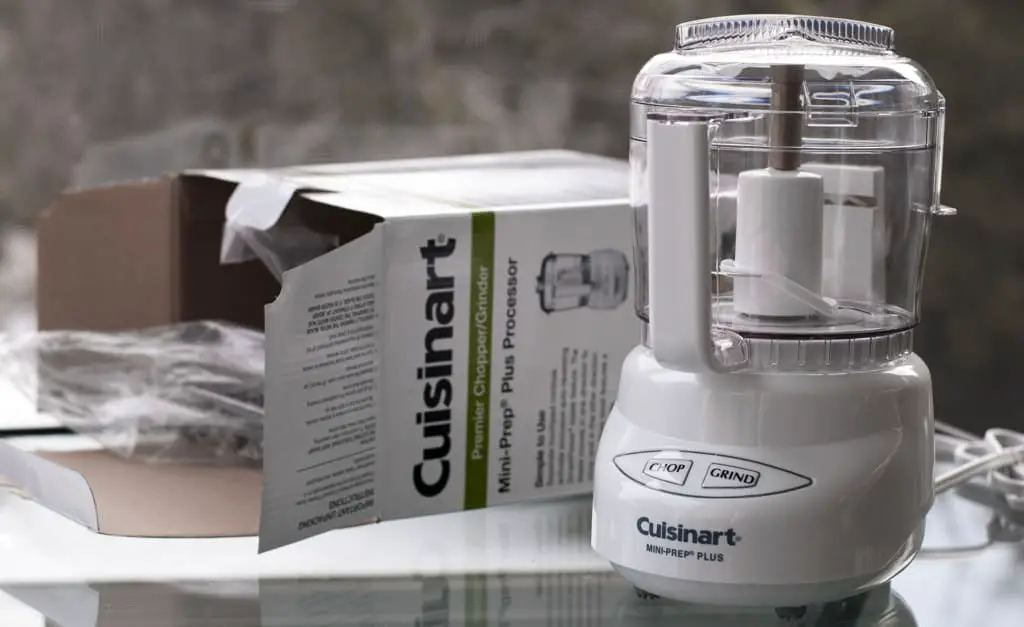 I'm obsessed with this thing. I use it alllll the time. It always sits loyally on my counter and is ready to go. We're like best friends forever. Wilson??
I've done a full review of it here. I think I bought mine at Costco but you can also purchase it here on Amazon with free shipping.
3. Glass Measuring Cups
I used to purchase Pyrex glass measuring cups until recently. Soon I'll go into why I won't purchase Pyrex anymore (except vintage Pyrex), but if you're curious now just google exploding Pyrex. Yeah. There's that.
I found these Borosilicate glass measuring cups at The Container Store, which can withstand hot temperatures. Unfortunately the smallest is a 2-cup portion. If you can find a 1-cup, it's a great option to add to your collection. With a 1-cup measurer, you'll get more accurate results when measuring small amounts of liquid. [Disclosure: I haven't used these actual measuring cups from The Container Store. I mention them because the borosilicate glass is better for hot liquids.]
4. Williams-Sonoma Striped Kitchen Towels
I know, I know. I use WS towels and this further confirms I'm a snob. Would you expect anything less? But they are really durable, never pill, and absorb liquids really well. Have you ever used a kitchen towel that wouldn't even dry your hands? These would never dream of leaving your hands wet. They come in multiple colors and are a great deal if you can get them on sale. I have them in several colors but my favorite is called Drizzle.
5. OXO Silicone Turner
I own two of these because one is always in the dishwasher. It comes in large and small (I prefer small) and it's perfect for making Secret Ingredient Scrambled Eggs and The Grownup Breakfast Sandwich. It doesn't scratch my pans and flips/turns eggs so well!
6. Rubbermaid Mini Food Storage Containers
These mini storage containers are – can I say it? ADORBS. They store about 1/2 cups worth of "stuff" and are perfect for packing salad dressings, sauces, small snacks like almonds, leftover chopped garlic – I just absolutely love the size. I think I also saw them for sale at Target.
7. Microplane Zester/Grater
This is one of those things that you don't know you need until you have it. I love this thing. You can zest citrus fruits in a snap, grate hard cheeses like Parmesan and Pecorino Romano, and grate little bits of pretty chocolate over your favorite desserts. My old zester is collecting cobwebs in the drawer. Not that I have spiders in my drawers but…never mind.
8. Silicone Tongs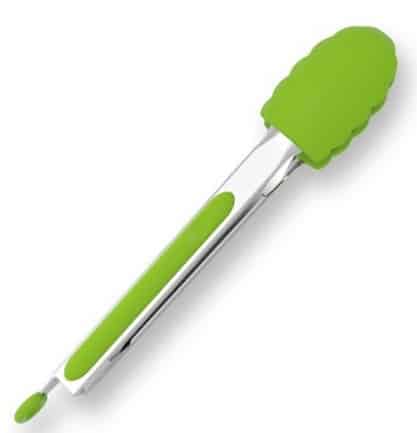 You've heard me annoyingly lecture lovingly talk about scratching your nonstick pans and how I'm a firm believer in using silicone instead of metal or nylon utensils. As you flip that delicious pork chop in your new Calphalon pan, you don't want to dig into your nonstick finish with anything but these easy to use silicone tongs. I cannot dream of a world where these don't exist. Am I being a kitchen gadget spaz again? I'm not sorry.
9. Mini Silicone Spatulas
Yes, I do believe I could live on a deserted island with mini spatulas. I bet they'd make really cool sand castles. Seriously, these get used all the time. They are especially helpful to scrape out my Cuisinart Mini Food Processor. And they're cute. What's not to love?
10. Williams-Sonoma Blunt-Ended Silicone Spoon
I think I just like typing the word silicone. Silicone silicone. One more – silicone. It never gets old.
I apologize in advance because it's totally not fair for me to mention this beauty: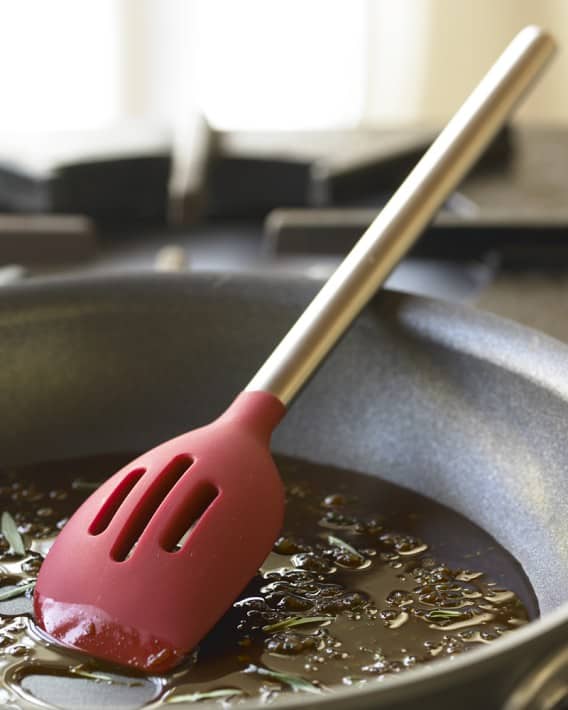 because (I'm welling up with tears now) Williams-Sonoma is not selling it anymore! WHAT? DO NOT go on the deserted island. Because without this spoon, you won't make it. This spoon is the be-all, end-all, all-all of kitchen tools. Last Christmas I did a giveaway with these spoons because I'm that enamored with it. It's the blunt end and the square tip that gives it an edge over other spoons. If you ever see one for sale (maybe some of the stores still have them), don't ask questions, just grab it. Don't email me, tweet me, snapchat me asking "Hey kitchen Snob, are you sure I should buy this?" BUY IT. I have spoken.
There you have it. Wilson and I hope you enjoyed this list. Wait, where'd he go? Wilson?!
Some of the links above are affiliate links. This means that if you purchase an item through the link, I receive a very small commission (hi, pennies). However, all opinions are my own (read: I love them!) and I was not paid to review these items.
What about you? Do you have any items in your kitchen that you just can't live without? What's your favorite?