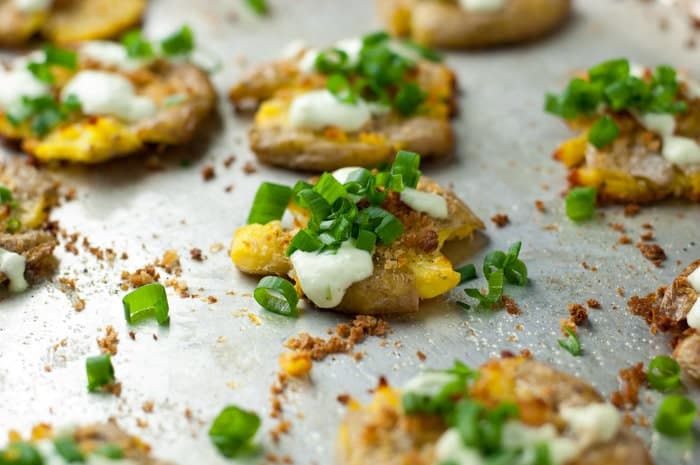 Let's let out a big sigh of relief that it's Wednesday, my food-loving friends! Because this weekend, you're gonna want to whip up these punch-you-in-your-face morsels of flavor.
I'm serious, you guys. These Smashed Potatoes are going to PUMP YOU up.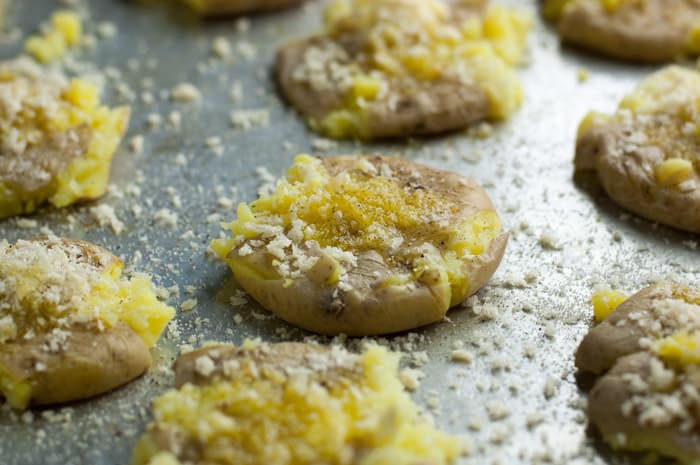 And for those brutes out there, have fun smashing these little bambinos.
Would it be wrong if I just slurped up this Jalapeno Lime Aioli with a spoon for like…a meal? Because who needs smashed potatoes as an excuse to eat this stuff.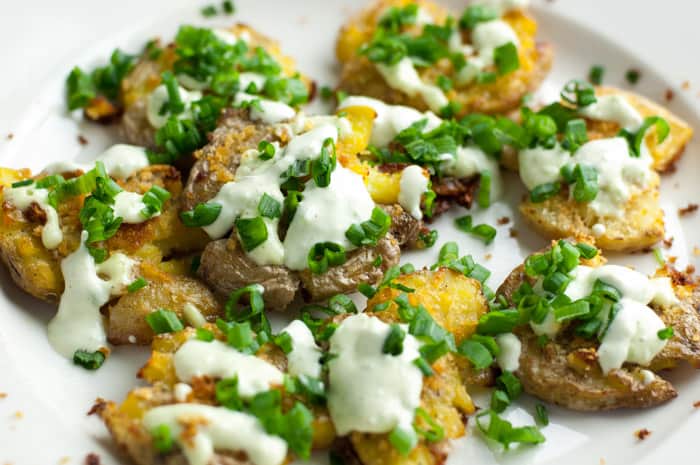 See what happens when you put these in front of my face?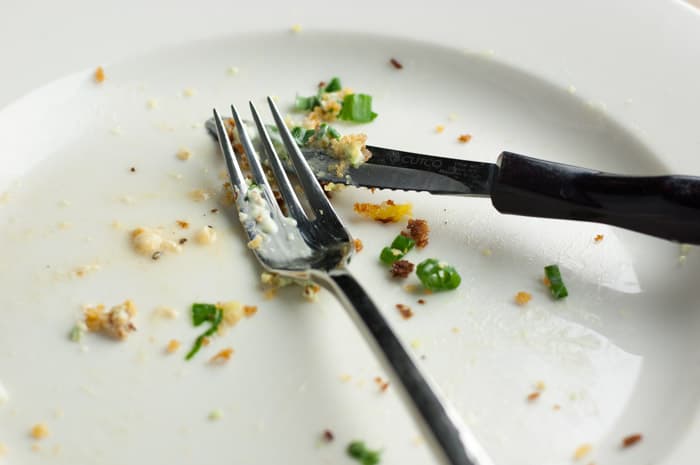 The garlic in the aioli sauce is kickin' in this recipe. Garlic makes me happeeeeee. If you like your garlic on the mild side, I suggest using only one clove, as opposed to two.
For those who aren't familiar with aioli, it's basically just a garlicky mayo. But because we've been having some warmer weather (does 55 count as warm??) I've got Spring on the brain and I'm craving things that are green and fresh.
What else could I do but I cram extra garlic, jalapenos and fresh lime juice into my aioli?
GO BIG. Or go home.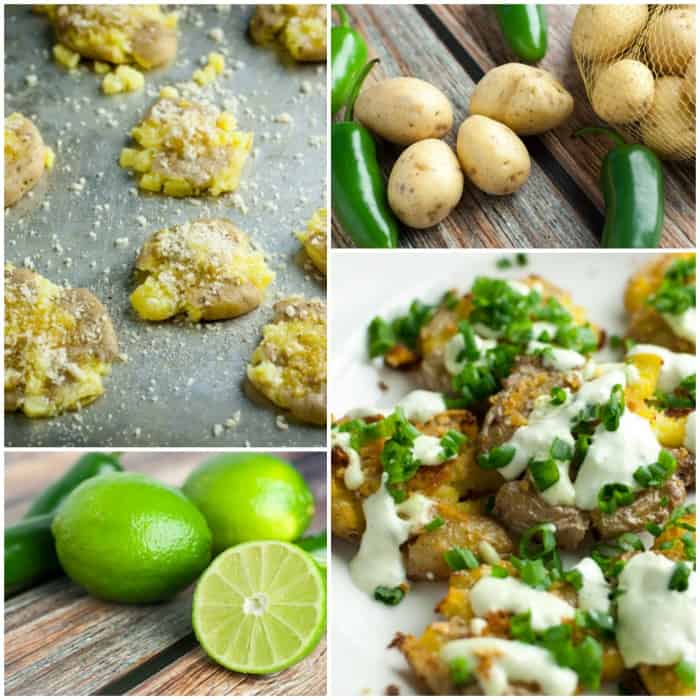 And do I ever make anything without green onions? I can't help it. We're in love ♥♥♥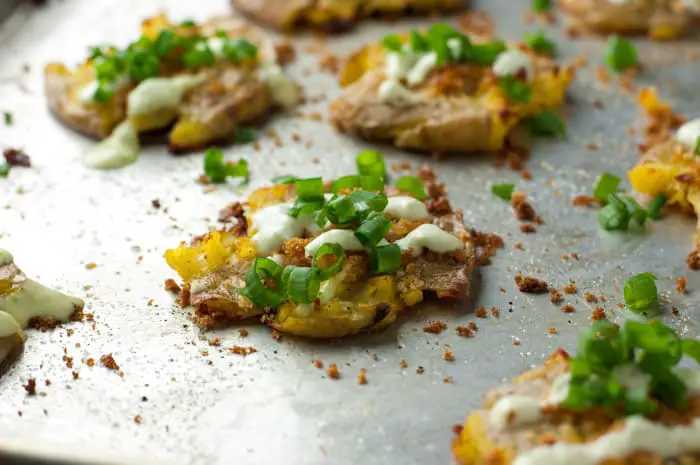 The Aioli sauce could also be used in so many other ways. Like a spread in sandwiches (sweet Jesus), on fish (oohhh my irregular heartbeat), or serve it with crispy Fried Zucchini Parmesan Crisps (this is sending me over the edge!!)
You're probably not over any edge because you haven't made these yet. So I understand if you just want to read this blog post in calm silence while I totally freak out.
But you'll come around.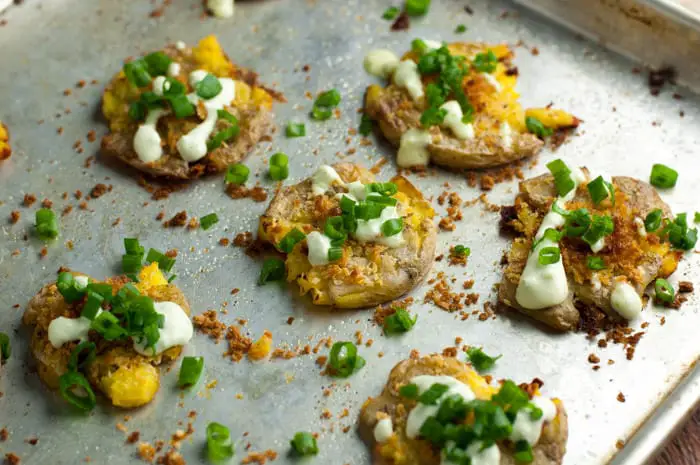 Print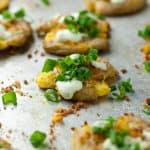 Smashed Potatoes With Jalapeno Lime Aioli
---
1

pound baby Yukon Gold potatoes (baby red potatoes can be substituted)

3 tablespoons

salt
Finely ground sea salt and fresh ground pepper (table salt can be substituted)
Butter
Panko bread crumbs
Olive oil

1/2

bunch green onions, diced
Aioli Sauce
1

–

2

large garlic cloves (The garlic is strong in this recipe. If you or your family doesn't like a lot of garlic, use only

1

clove)

1

jalapeno, seeded and broken into chunks

2 1/2 teaspoons

freshly squeezed lime juice

1/2 cup

mayonnaise

1/4 teaspoon

finely ground sea salt

30

turns fresh ground pepper
---
Instructions
Fill a large pot with water, potatoes, and 3 tablespoons of salt. (Don't be alarmed by the amount of salt, most of it will wash out when you drain the potatoes but will give the outsides a salty flavor.) Bring to water to a boil, then reduce heat and simmer uncovered for 20-25 minutes, until fork-tender.
While the potatoes are cooking, prepare the Aioli. In a small food processor, process garlic and jalapeno until finely minced. Add mayonnaise, lime juice, salt, and pepper and process until smooth. Turn off food processor, open lid, and scrape down the sides of food processor and give it another 10 seconds of pureeing (with lid back on of course!). Pour into small dish and store in refrigerator until needed.
When potatoes are fork tender, drain out the water and let potatoes cool for about 15 minutes.
Preheat oven to 450°. Grease baking sheet with olive oil. Place potatoes on baking sheet (careful not to overcrowd them – I had to do mine in 2 batches or use 2 baking sheets). With potato masher, measuring cup, or base of a large mug, smash potatoes until mostly flattened.
Add a small pat of butter to the top of each potato. (since the potatoes vary in size, some potatoes might only need 1/2 pat of butter).
With your hand, sprinkle some Panko breadcrumbs to each potato (approximately a teaspoon's worth). Generously sprinkle salt and pepper over potatoes. Then, lightly drizzle olive oil over each potato.
Roast potatoes in the oven for approximately 25 minutes, or until crispy and golden.
Remove from the oven and let cool for 2 minutes. Drizzle with Aioli and sprinkle green onions over the tops of potatoes. Serve hot.
Notes
More great recipes at www.thekitchensnob.com